Gifts for Family, Co-Workers or Anyone
Any of my delicious treats are good for the body and good for the soul! They are more thoughtful than flowers, more healthful than a box of chocolates, and more memorable than a gift card – and more affordable than all of them! In addition to muffins, I offer trail mix, roasted nuts, cakes, and cupcakes.
---
Mini Muffin Gift Boxes
Price: $15 for box of 2 dozen assorted flavors (Shipping and delivery fee extra)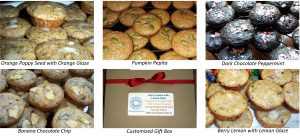 You can choose up to four flavors that will delight their taste buds and win their heart! These are perfect for teacher gifts, client gifts, birthdays, get-well wishes, thank you tokens, holidays, or just any day! Available flavors: Banana Peanut Butter, Dark Chocolate Peanut Butter, Dark Chocolate Peppermint, Banana Chocolate Chip, Cherry Chocolate Chip Pistachio, Pumpkin Chocolate Chip, Pumpkin Pepita, Cranberry Orange, Pink Grapefruit Poppyseed, Berry Lemon, or request the recipient's favorite flavors! You can personalize a card or add a note yourself.
Boxes available for pick-up or delivery in the Franklin/Brentwood/South Nashville area. Boxes are also available for shipping out-of-town. They are perfect for your special someone, family, and colleagues. You will certainly stand out with a personal box of treats.
---
Signature Muffins
Price: $10/dozen for regular size or $12/4-dozen mini muffins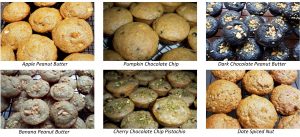 Available in regular or mini size. Flavors include cherry chocolate chip with pistachio crunch, double dark chocolate cherry, banana chocolate chip with banana crunch, pumpkin chocolate chip, coffee chocolate chip, citrus poppy seed with citrus glaze, cranberry orange with orange glaze, berry lemon with lemon glaze, orange chocolate chip with orange glaze, pumpkin with pepita crunch, dark chocolate chip with almond crunch, blueberry almond, apple peanut butter, dark chocolate peanut butter, date spiced nut, and raisin walnut.